This is the Best Solution EVER for Carpet Cleaning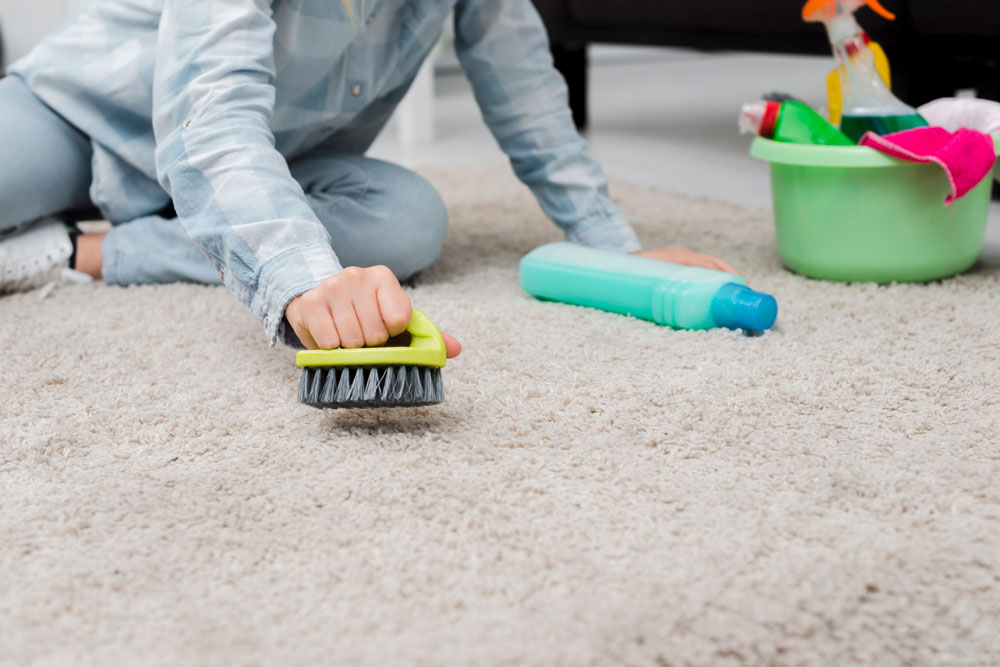 This is the best homemade carpet cleaning solution you've ever read.
With this recipe you can get rid of carpet stains that seemed impossible.
At Ideal Maids Inc. we know that there are certain spots that we simply cannot get rid of unless we perform a steam cleaning with the proper equipment, however if you want a quick and cheap solution this article is for you.
We recommend first tackling individual stains and then proceeding with general carpet cleaning.
First mark the areas that need your attention and carry out a small localized treatment. Make sure you do this in good lighting so you don't miss any spots.
How about we start mixing some carpet cleaners?
We will make a special one for stains, and another one for general carpet cleaning.
Our main ingredients are quite easy to get and you may even have them on hand:
Baking Soda

White vinegar
The key to doing the carpet cleaning effectively with this method is to use the ingredients in the correct order.
Vinegar first, then baking soda. Pour a small amount of vinegar directly onto the stain, followed by a pinch of baking soda.
Vinegar will help soften the stain, while baking soda lifts and eliminates odors. Together, they will begin to bubble and lift the stain to the surface.
If it's not a difficult stain, you can let the mixture sit until it dries and then vacuum it.
You can also let the mixture sit for 30 minutes and then rub it with a damped cloth.
With this concoction you can get rid of food and drink stains on your carpets or furniture.
After you have dealt with the complicated stains it is time to do a refreshing general carpet cleaning session:
The only ingredient: Vinegar.
Yes. We will only use vinegar and water to carry out this carpet cleaning.
Get a big gallon of cheap vinegar for the next trick.
If you need to finish quickly we can only recommend hiring Ideal Maids carpet cleaning professionals to carry out Carpet Cleaning in record time and with optimal results.
If you are in the Calgary area, don't hesitate to contact our experts. You can call or fill out this form to request a free quote.
The best thing about vinegar is that it serves to soften and remove stains without leaving residues.
Mix the water and vinegar in equal parts and pour it into the tank of your carpet cleaner.
Vinegar will leave a temporary odor in your home but don't worry, it will go away as your carpets dry.
Follow the instructions of your carpet cleaner and start cleaning and deodorizing your carpets with this method.
Sometimes just a couple of household ingredients can help us get rid of stains on our rugs and furniture, but other times it's a little more complicated than that, depending on the source of the stain.
For advanced and high-quality carpet cleaning you can count on the services offered by Ideal Maids Inc. in the Calgary area. You can call us at (403) 248.8686 or request a free quote HERE
Remember that you can consult our Blog for House Cleaning tips and tricks.