10 tips for office cleaning that will change your life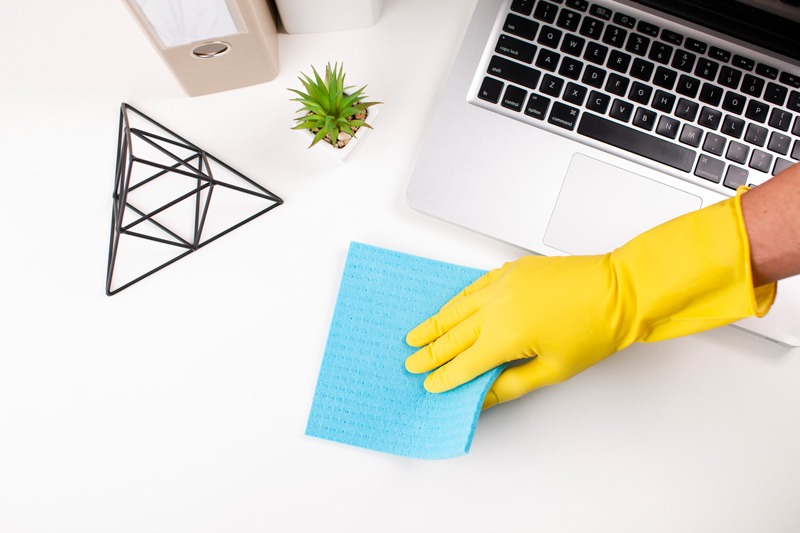 Office cleaning is crucial to preserving an optimal work environment, especially when you and your employees spend most of the day, so keeping it clean and tidy will make you feel comfortable being in your workplace and in turn fulfill your duties more efficiently.
The importance of order and cleanliness in an office also lies in the impeccable image of quality and excellence that all businesses and companies wish to convey to their customers.
That is why from the Ideal Maids cleaning team we want to make your life simpler, helping with these 10 effective office cleaning tips.
Cleaning an office is much easier, as long as you have the necessary space for it. Therefore, it is advisable to take those hours where there are no workers in the facilities. In this way, the process will be faster and won't affect the performance of the employees.
Organize your space better
Before cleaning any space in your office, try to review, throw away, undo everything that is unnecessary. Take some time to think about those objects that need to be repaired, donated such as electronic equipment, furniture, among others. Once space is distributed and organized, it will be easier to clean the office.
In any office space, there will be some areas that will require more cleaning and work. Just locate it and make sure it is the focus of attention throughout the day, this will guarantee effective results after finishing the disinfection process.
Find the right cleaning tools (and supplies)
After studying the type of surfaces in the office, prepare yourself with tools such as microfiber cloths, sponges, cotton cloths; if possible already moistened with the appropriate product for each surface. In this way, you will optimize your work more easily and in less time.
Clean tech gadgets carefully
Technological devices are pretty sensitive to the touch, which they need to be cleaned with specific products. Therefore, they must be cleaned with dry cloths or very little damp with a product not harmful.
Window and glass cleaning
Regarding the cleaning of these surfaces, trying not to do them when the incidence of light is direct or with an abrasive substance that can damage them.
Ceilings are surfaces that are often forgotten when cleaning, however, these also accumulate dust and residues, which they must be cleaned regularly. It is recommended 2 or 3 times a month depending on the office's size. 
Do not forget about floor cleaning 
The floor is one of the last surfaces that is cleaned in an office, for this you must use a technique, an instrument, and a suitable product according to the type of material. One of the most used techniques is the double cube. This technique guarantees effective cleaning, but it is important to do it correctly.
Try to maintain the periodicity of one cleaning and (or after instead "and") another. (Or "try to maintain a regular cleaning) 
The constancy (or regularity) between cleaning after cleaning means that the process can be shorter and shallower. In this way, you save labor material and reduce labor costs. In addition, you provide well-being to the working environment with more time.
Cleaning agencies are one of the most hired companies when it comes to office services due to they facilitate the cleaning process by doing it with great precision and in less time.
If you are looking for the best cleaning service in the Calgary area, at Ideals Maids we are known for offering a personalized service that is supervised by its own owner, thus guaranteeing punctuality, quality, and the use of the best products for maintenance and care your office.