Kitchen decor trends are always evolving and 2021 is no exception.
In the past, this space was intended exclusively for cooking and eating, but today, the kitchen has become a multifunctional place, especially in quarantine, so we spend more and more time in this space of our home.
That's why decoration occupies an increasingly important role, and today at Ideal Maids we will present some of the top kitchen decorating trends for 2021.
Modern Black
One of the trends for 2021 is dark colors such as dark gray and black. These colors not only combine well with wood and metal but also create a contemporary, natural, simple, and luxurious look.
Marble Kitchen countertops
There isn't doubt that marble is the most coveted material for the decoration of any kitchen.
Marble not only adds that touch of elegance that you are looking for in your kitchen but also works very well with materials such as wood and metal.
Wood-style
Whether you want a rustic or natural look for your kitchen, you can opt for wood, one of our favorite decor trends this 2021.
Wood, after being out of fashion for a while, is back on-trend.
Lighter tones work well with marble, while darker tones work perfectly with concrete and metal.
You can choose from several types of wood to decorate your kitchen, especially bamboo if you are looking for a natural and pleasant style.
Kitchen wallpaper
Wallpaper allows you to decorate your kitchen wall in a very creative way. You can play with different tones.
If you want an elegant atmosphere, you have the possibility of opting for pastel or light colors to add that modern touch.
But if you prefer a retro look, color pops or dark tones such as green and orange for your kitchen cabinets are ideal.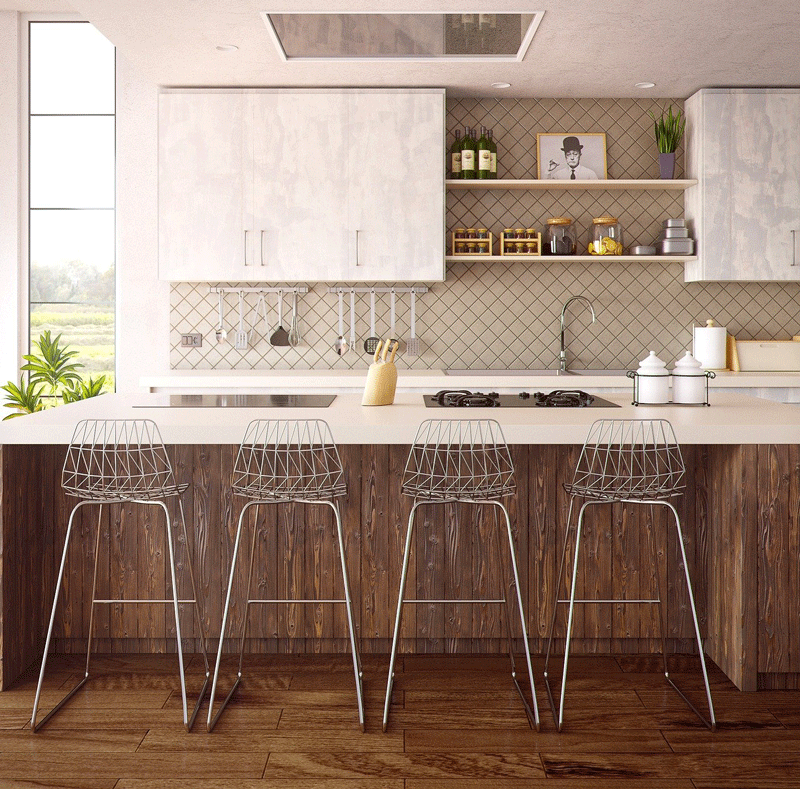 Double island
Island is a functional and focal element in the space if you have a large and spacious kitchen. So if you are one of those people who appreciate this element in the modern kitchen, why not opt for a pair of islands?
You can even include a floral arrangement and two candelabras in each of them to achieve a natural and elegant atmosphere at the same time.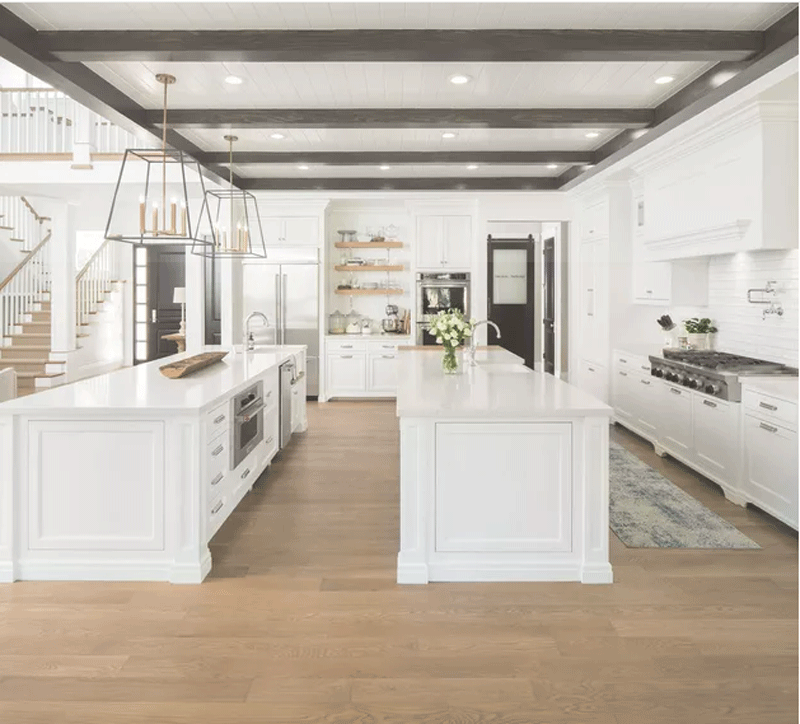 Dark floors
Finally, if you are looking for contrast with the light, pastel, or pale colors of your kitchen you can opt for a darker floor such as gray or dark wood to stand out neutral tones of your kitchen walls or furniture.
Now is the time to redesign and reinvent your kitchen look, so if you're looking to update one of your most treasured spaces in the home, don't hesitate to consider these great decorating trends in 2021.